Opening the world through short-term study abroad
EF College Study provides life-changing, short-term study abroad experiences for students to develop the skills needed to become global citizens. Our mission is to remove the barriers of educational travel, in order to build global competence, empathetic leadership, and open-mindedness for as many students as possible.

Our philosophy is to make international education via faculty-led study abroad as impactful as possible, while simultaneously removing unnecessary burden off our institutional partners and making it easy for you to establish a program on campus.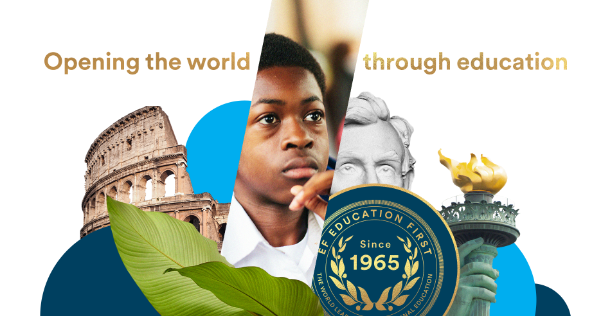 We are committed to diversity, equity, inclusion and belonging
Our vision is to open study abroad access to all learners regardless of gender identity, race, physical ability, sexual orientation, and socioeconomic status so that they have the opportunity to develop the soft skills required to navigate today's interconnected world.

Our goal is to increase access to study abroad opportunities by expanding and diversifying our network of colleagues and travelers to create an intercultural experience that is educational and transformational for all learners.
When you work with EF College Study, you simply get more: more impact, more consultation, more access, more academic resources, more customization, more options to choose from, more risk management, and more professional development opportunities. Explore what makes us different, below.
Innovation in educational programming
An exclusive focus on higher education
Programs designed to build global competencies using our Global Learning Model
Proprietary academic tools to supplement and strengthen the educational value of the experience
A pre- and post-immersion assessment to give you tangible indications of impact on your students
An Academic Affairs team to incorporate your unique learning outcomes into the program design and to deliver powerful academic experiences while abroad
Staff who are dedicated to achieving your goals, with a fast response rate to save you time
Decades of experience sourcing a wide variety of quality custom experiences to create deeper learning opportunities tailored to your desired outcomes
Fully funded professional development opportunities for faculty leaders and admin, plus year-round networking to build community and expertise
Comprehensive resources that take the burden off faculty, designed to support recruitment, enrollment, and financial assistance
A commitment to DEIB to support all identities and build inclusive experiences with our partners abroad
A focus on risk management and $50 million general liability coverage
A worldwide presence that spans across 116 countries and 52,000 staff members
Safety and Incident response teams that are available 24/7
Comprehensive yet flexible policies and measures that cover every situation that may arise, including those related to COVID-19
Tour Directors who accompany the group throughout the entire program, including excursions and overnight
We are your partner in short-term, faculty-led study abroad programs. Created in cooperation with our global network of educational partnerships, our collections of academically- and culturally-driven programs are designed to give students access to hands-on learning opportunities and life-changing travel experiences.
Travel has a big effect. Not just on travelers, but on the people and places they visit. In order to make sure EF and our travelers are making a positive impact, we've created guidelines for getting in the mindset to travel responsibly on your next adventure.
Partnerships and affiliations
At EF College Study, we work with expert partners to ensure the institutional needs of the educators we work with are met. Our network of educational partners is comprised of thought leaders and renowned institutions around the world. Throughout your journey with EF, you'll have opportunities to experience the benefits of these incredible partnerships—including access to events, resources, and travel.

See our partnerships