When you partner with EF College Study, you gain access to our global team of educators, researchers, and logistical experts, all streamlined to one point of contact: your Program Consultant.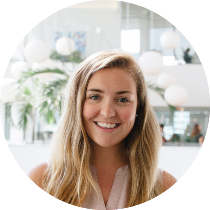 Your dedicated Program Consultant is your single point of contact and partners with faculty at institutions specifically within your area. He or she takes the time to understand your institutional goals and obstacles, provides personalized resources to draw in and retain student interest, and communicates with our travel experts and educators to guarantee your program's success. Program Consultants like Michaela are there from your first conversation to after your return.
Your expert Tour Director
From the moment you clear customs, your expert Tour Director will be at your side. As a confident and comfortable voice in what are often unfamiliar places, he or she provides peace of mind for both those abroad and back at home. They partner with faculty leaders to identify and facilitate learning moments while abroad, and it's their job to make sure the entire group is safe, secure, and fully taken care of.
Our academic leaders
Comprised of educators, travel experts, and visionaries, our leadership team drives EF College Study's unparalleled partnership with institutions across the country.


Marissa Lombardi, Ed.D. | VP, Academic Affairs & Strategic Partnerships

---

Dr. Lombardi oversees outcomes assessment, partners with faculty on curriculum integration and develops strategic partnerships. She was Director of the Master of Science in Global Studies and International Relations program at Northeastern University and served as dean of students at Lorenzo de' Medici International Institute in Florence, Italy.

Colin Shaw, Ph.D. | VP, Program Design

---

Dr. Shaw's logistics and operations expertise ensures alignment between our industry engagement experiences and the discipline-specific learning objectives of our faculty Group Leaders. Dr. Shaw holds M.S., M.Phil., and Ph.D. degrees from the University of Cambridge and lectured at universities in England, the U.S. and Canada.

Christian Meyer | President of EF College Study

---

Christian leads the vision and strategy for EF College Study and aligns EF global resources to partner with higher education institutions to internationalize campuses and scale study abroad programs. A Harvard graduate and father of four, Christian brings his passion for global perspectives to the team to power international experiences that are scalable, accessible and critical to develop tomorrow's leaders.
Travel & logistics experts
Our travel & logistics experts are responsible for finding you the best flights, answering students' questions, and making sure everything goes smoothly.
Program Experience Manager

---

Our Program Experience managers are experts in every logistical detail, from hotels to meals to guides and beyond. They meet with restaurants, test hotels, find industry engagement experiences that align with faculty goals, and more, to ensure that all of our programs are of exceptional quality.

Traveler Support Team

---

Our in-house Traveler Support Team is the first point of contact for travelers' needs and questions. They ensure that all EF College Study travelers are prepared to study abroad—from payments to passports to packing—and experience the transformative power of travel.

Customer Experience Managers

---

Our Customer Experience Managers research trends in international higher education to make sure that our programs deliver on quality, content, and outcomes. They collect feedback from our faculty and students to refine our program experience and innovate ways to delight our groups.
Your safety team
In addition to our global team of educators, researchers, and logistical experts, you can travel with peace of mind knowing that there are over 52,000 EF employees at over 600 schools and offices across 115+ countries. Read more about how our team covers institutions, educators, and students from unforeseen circumstances that may arise before or during your program.