New health and wellness standards
Developing industry-leading standards
As we look ahead to traveling in the age of COVID-19, health and wellness will have a critical influence in how we will design and operate programs. Your safety and well-being has never been more important than it is today.
These updated hygiene measures and industry-leading standards are part of
EF's Safety Assurance commitment
, which also includes EF's worldwide network, global and domestic safety teams, and EF's Safety and Protection offerings. Together, our commitment is designed to ensure that you can enroll and travel with confidence.
See EF's full Safety Assurance commitment
Enhanced on-program measures for confident travel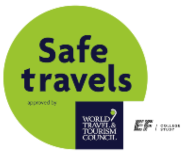 Our new guidelines adhere to the global safety protocols from the World Travel & Tourism Council. The Safe Travels stamp is the world's first ever global safety and hygiene stamp for the travel and tourism industry, designed specifically to address COVID-19 and similar outbreaks.
---
Strict adherence to health protocols
We will only work with hotel, transportation, meal, and activity suppliers that are compliant with enhanced hygiene and social distancing standards aligned with local regulations. To make sure standards are met, our staff will be on the road performing in-person spot checks regularly and our Operations Team will be working with our partners continually to make changes as necessary.
EF partners with major airline carriers that are implementing protocols including blocking middle seats to comply with social distancing suggestions, providing and requiring face masks on board at all times, updating boarding policies, and conducting more rigorous cleaning, sanitizing, and disinfecting between flights.

Additionally, most airlines use HEPA (High-Efficiency Particulate Air) filters, which are designed to catch at least 99.97% percent of dust, pollen, mold, bacteria, and any airborne particles. HEPA filters are the same filters used by many hospitals to maintain high sanitary standards.
Clean & sanitized private motor coaches
Your bus will be thoroughly cleaned and disinfected before your group boards and regularly thereafter, with a specific focus on high-frequency touchpoints. All drivers are being trained in social distancing best practices and in how to provide the safest possible environment. Hand sanitizer will always be available on our buses.
Hotels & restaurants with enhanced cleaning measures
We will only partner with hotels and restaurants that adhere to strict guidelines, such as frequent cleaning of common areas and thoroughly disinfecting guest rooms between customers. Partner restaurants will follow enhanced protocols with staff trained in local health, hygiene, and physical contact guidelines.
Experiences with physical distancing in mind
Portions of your program may be adjusted as we continuously work with our partners, local venues, and restaurants to provide as safe an experience as possible. Examples may include avoiding crowded locations and peak times, itinerary alterations to follow local guidance, and staggered timing for included activities.
Expertly-trained Tour Directors & local staff
All local staff, including your Tour Director, will be ready to explain social distancing and hygiene guidelines in the destinations you are traveling to, and following these rules themselves. This may include the use of face masks in addition to frequent hand washing and hand sanitizer use. Tour Directors will advise you on where and when to use public transportation, and how to do so in the safest manner possible.
Ask an expert
As part of our comprehensive commitment to your safety, EF has a dedicated Safety and Incident Response Team that help drives our ongoing and holistic safety approach. Here are some commonly asked questions, answered by members of our team.
Up-to-date country insights
As your partner in international education, we are committed to providing ongoing updates of situations around the world. Explore our country drop-down below to see each country's protocols, safety measures, and re-opening status.

Last updated August 5, 2020
New Safety & Protection offerings
In addition to updated hygiene measures, we've been hard at work amending policies and adding new protocols to ensure that you can enroll with confidence. Our new policies include enhanced Global Travel Protection Plans, Peace of Mind Programs, our COVID Care Promise, and more.
See our Safety and Protection offerings