BEST TRIP EVER!!!!!! I want to go back!
I LOVED THE TRIP!! Our tour guide was phenomenal, and was extremely attentive and taught me so much about Ecuador and the Galapagos! I felt super safe under his care, and would one million percent recommend the trip to others, and go back again! Great Service, thanks so much.
Worth it- if you're willing to fight for it
This was an amazing trip...when we didn't follow the EF itinerary. My group fought for months to be able to go scuba diving in the islands, see Tortuga Bay and generally have the trip we paid for. The EF itinerary was mostly looking at churches and villages (all ~2 hours from the hotel, hello long bus rides). The EF food was a lot of sandwiches and semi-american food with some plantains thrown in; best food of the trip was street food when we skipped out on the EF dinner. The significant amount of planned time in the gift shops of the places we ate, or the villages we visited, was odd. Our last day consisted of visiting a hummingbird forest, walking along an Amazon tributary, and relaxing in volcano heated hot springs - the EF plan was to drive two hours to see yet another village.
TL;DR it's a great trip if you fight EF to put fun things on the itinerary.
Great experience, but room for improvement
Though this tour presents a wonderful opportunity to visit the Galapagos Islands, three days at the actual islands is not enough time to see much of the natural beauty and fascinating wildlife to be found there. Adding to this problem is the fact that almost half the time available for daylight activities is spent on a boat being transported between islands.

After my trip I feel that I have seen a good portion of the towns and outskirts of towns of the main islands, but not much of the wild places. I would suggest to either extend time spent on the islands, and/or make the trip yacht-based as opposed to hotel-based. This way much of the travelling between islands can be done at night while people are sleeping.

I do understand the added expense that will be involved in making the trip yacht-based, but in my view, if you are going to go to all the effort and cost to get people to the Galapagos in the first place, you might as well present them with an experience that won't leave them wondering about what lies beyond the town's horizon.

These criticisms should not be taken to mean that the overall experience is a negative one. The towns, breeding centers and swimming beaches that we did visit were all wonderful and enjoyed by everyone, but it was the wild places that we were most yearning for!
Challenging Trip
We spent almost 5 of our 8 days travelling, but, considering that we only had about 3 'touring days' we did see and do a lot. We had a good guide. Your write-up states that we would travel on a yacht to two islands. We did not travel on a yacht. It was an open motorboat (2 motors), and a third of the people in our group were sick, due to the motion of the boat.
The Darwin Research Station was also a bit of a disappointment, as we never went into any buildings there (probably due to lack of time).
Our hotels were all good, but the 2nd hotel in Quito "Real Audiencia" (I think) did not have an elevator, and I was actually winded by the time I got to the 3rd floor with my suitcase.
Food was ok, not great. Was good at the two restaurants on the Islands we visited.
lot of travel time
Half the trip was in travel time - planes and buses. Some additional time in buses and boats was part of the tour and some of that was ok. Did not realize how much time it would take to get to an island and how bumpy that could be. On one of the days 6 people got sick and 4 of them did not return the next day which was a shame because that was the best day. We saw a variety of animals/birds on Isabela Island and I got to snorkel with a sea lion (fantastic) and we had a dolphin show on the way back with about 20-30 dolphins. The hotels were ok: first was lovely, had an elevator, breakfast good, staff ok, good waer in BR; second was ok, lovely outside areas to hang out, cold water in shower, food was overcooked but staff very pleasant (some people had trouble with AC but we were ok); the third was very nice in the old part of Quito but did not have an elevator, shower was very small, restaurant was lovely and food was ok. It was a good trip, not a great trip.
Galapagos
I like the Galapagos experience. I did not like the extention. Too much back and forth. It seemed a bit unorganized. I would have had those extra days in the Galapagos Islands. I did not like the hotel that we stayed at in the Galapagos. The room was full of ants. No screens on the windows. Bugs could fly in and out at will. In Ecaudor, you can not flush the toilet paper down the toilet. Many toilet seemed to leak and I had to smell that sewer smell. I guess that is what happens when you visit a third world country. Not sure that I would go back but maybe to visit the amazon region.
amazing adventure
the experience was awsome, although some of the learning aspects were rushed and some tour guides appeared to not be very knowledgable. the tour leader should inform the groups to follow some traveler rule not to push or to cause emotional harm to some of the locals as their beliefs may differ from the travlers. also that some consideration for other group members should be considered. with out those minor but very noticable issues the trip was very exciting and makes me want to complete my schooling qiucker with the option to travel more through out my career. as a first time traveler abroade was made easy and very exciting.
An incredible place
This was my first international trip that I have led and my first trip with EF college study tours. Our travel dates were Jan 2-9 2012. The website hasn't been updated yet for reviewing trips in 2012.

I had a mixed group of college students and retired couples on this trip. My focus of the course was the wildlife, ecology, and ecotourism of the Galapagos. We saw just about everything that I wanted to. Marine iguanas, penguins, 5 species of finches, the tortoises, land iguanas, lava lizards, Galapagos blue/sulfur, even a monarch butterfly. Plus plenty of surprises, bottle-nose dolphins, school of yellow stingrays, sea turtles, and huntsmen spiders.

The published description and itinerary of the trip does not due the actual trip justice. We spent a full day on Isabela island and another full day on Floreana. At both places we did scuba diving (amazing). At Isabella we hiked in the uplands, a much more ecologically diverse habitat as compared to the lowlands. We also did a boat tour at Isabella which included visiting the natural nursery for the marine iguanas and sea lions.
The mechanics of the trip are complicated, an in-trip flight, and 2 round-trip speed boat rides between Santa Cruz, Floreana and Isabela. Our guide handled it all like a pro. Not only was he organized and worked hard he was very knowledgeable about the Galapagos including the organisms and the cultural issues that are challenging the management of the park. I think we were very fortunate to have him, he really made the trip happen for us.

Something I'd change, one less day in Quito and 1 more day on the Islands, perhaps spend a night on Isabella and travel directly to Floreana from there the following day.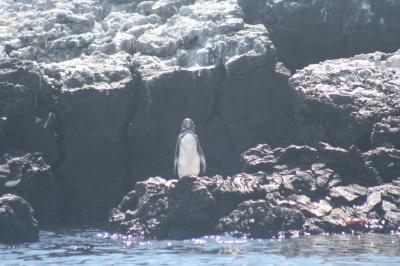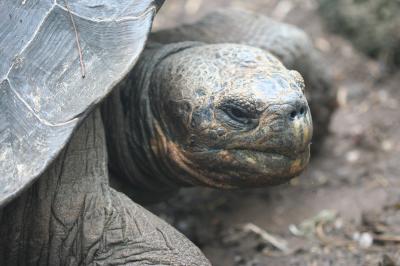 Underwhelmed
Our trip was cut short 3 days, and was altered in arrangements last minute. During the trip I felt we were treated like cattle being herded around.
Pros and Cons of Galapogos
Overall I would rate the trip to the Galapagos as a good time. However as a student studying ecology I feel that our guide, although knowledgeable about the local history, was not as well educated in aspects of ecology. It was very interesting to see the tortoises and Darwin's finches, but I feel that there should be a program offered that is more directly involved with learning about ecological aspects, such as different systems, biotic, and abiotic factors how they interact together. Also getting stranded on a boat for about 8 hours during the day was not enjoyable. I feel that loosing that one day was considerable amount of time that wasn't significantly compensated for. But the guide was pleasant and the trip was fun.