Global Perspectives Certificate
Upon return from your study abroad program, receive a Certificate of Completion, issued by EF in partnership with the Nobel Prize Museum, for submitting a passing EF Global Perspectives Project, designed to equip students with the skills to be leaders for peace and global prosperity.

By successfully completing this project, travelers will have showcased their knowledge of the global dimensions of their overseas learning program and their ability to take action to confront important global challenges via a question prompt. They will become part of a global community of change-makers dedicated to making the world a better, more truthful place and can use this certificate of completion in their own resumes, LinkedIn profiles, and portfolio. Their project will also be featured in our Digital Exhibit.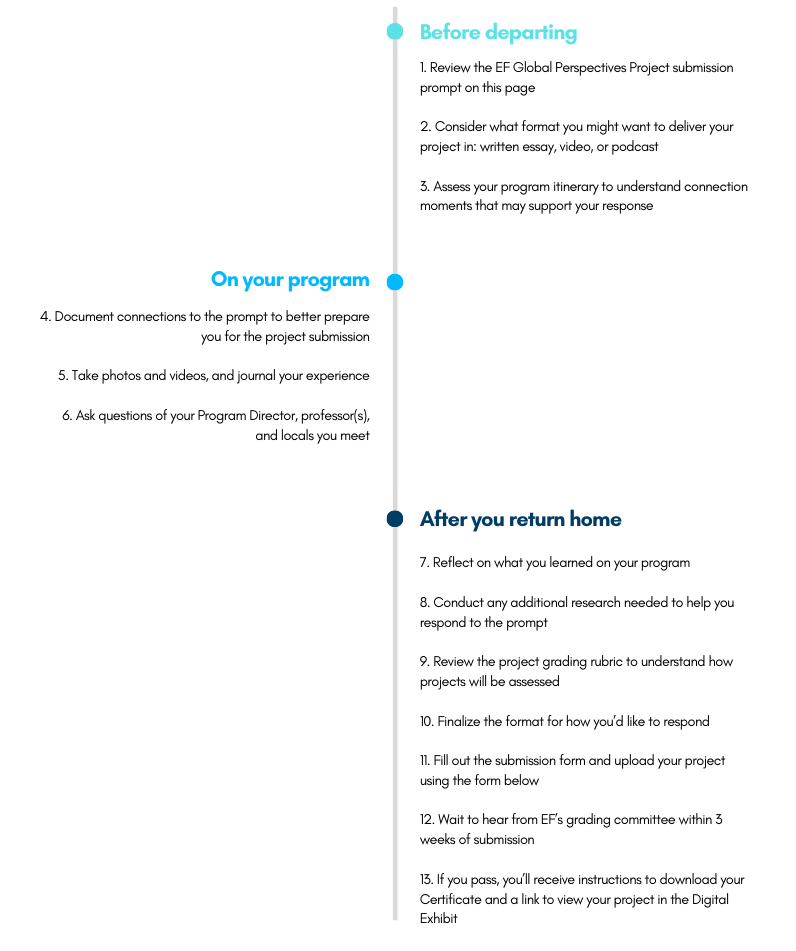 The Nobel Prize Museum celebrates the world-changing ideas of the Nobel Laureates, and their commitment to making the world a better, more truthful place. How did your travel experience help you deepen your appreciation of the global dimensions of your program, uncover a truth about the world, develop a new idea, or provide you with the knowledge, skills and attitudes that will enable you to contribute to making the world a better place?
Each project will be evaluated according to an evaluation rubric. There are a maximum of 4 points available for each of the 5 elements for a maximum total score of 20. Projects must score a 12 or above to earn the certificate. Review this grading rubric as you reflect on your program and work on your submission.

Download the rubric
Ways to submit your application
We know that every learner is different when it comes to reflecting on their experience. We offer three different ways to submit your application, so you can choose which one best reflects your learning style.
Written essay

---

Write a 1000-1500 word essay responding to the prompt and making sure to include evidence from experience. Photos may be added, if relevant to the essay.​

Podcast

---

Create a 6-8 minute podcast answering the prompt, including examples from your experience.​
Please note: the file size limit is 75MB for each of these submission types.
Submit your application here
Fill out this short form to submit your application.
Check out the Digital Showcase