London: The City Experience
Enroll now and lock in the price.
Tour Number: 1612518KE
Group Leader's Name: Kerry McNiven
Departure Date: 3/14/2015
Return Dates: 3/20/2015
Departure Gateway: Boston
7 days
Enjoy the city with the time and tools to craft your own experience at your side
Great Britain may look small on the map, but navigating its biggest city can be daunting.
Wander the smoky Dickensian streets of cobblestone and hanging lamps, or stroll across Windsor Bridge and admire its stout castle on the horizon. If you like to move a little faster, chase the wealth of landmarks around the city in an action-packed week of expedition.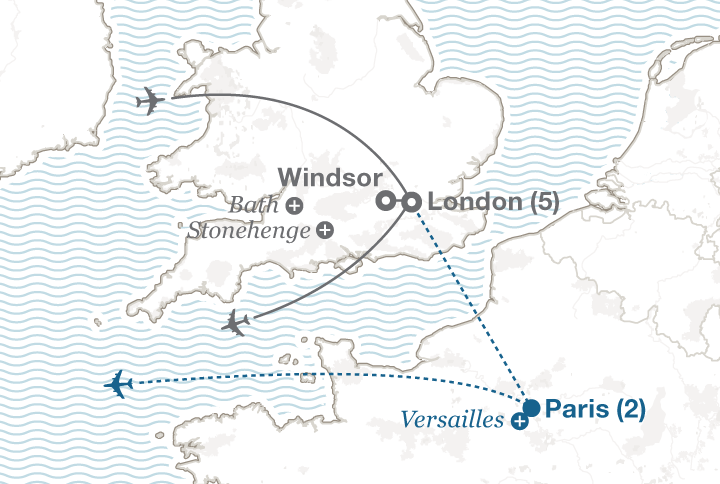 Day 1: Fly overnight to England

Day 2: London

Take a walking tour of London

The Strand
Trafalgar Square
Leicester Square
Covent Garden

Enjoy a fish and chips dinner

Day 3: London

Take a guided tour of London:

Big Ben and Houses of Parliament
Piccadilly Circus
St. Paul's Cathedral
Westminster Abbey
Changing of the Guard at Buckingham Palace (if scheduled)

Take a guided tour of Windsor

Windsor Castle
St. George's Chapel
Queen Mary's Dolls' House

Day 4: London

Add this in-depth excursion

| | |
| --- | --- |
| | Bath and Stonehenge |

Take in two world-class archaeological sites on this full-day optional excursion. First, you'll visit Bath, built in the 1st century as a vacation retreat for the empire's elite. Then, continue on to unmistakable Stonehenge, whose exact origin and purpose remain shrouded in mystery more than 4,000 years after its construction.

Day 5: London

Take a guided tour of the Tower of London

Take a guided tour of the British Museum

Attend a theater performance

Day 6: London

Enjoy free time in London

Choose from three optional activities:

Add this in-depth excursion

| | |
| --- | --- |
| | Dickensian Walking Tour |

It's not hard to put yourself in the shoes (or "crabshells" in Victorian slang) of Dickens' characters as you walk by the centuries-old pubs and Georgian courtyards that litter the streets of London. Dickens was famous for traipsing through central neighborhoods at all hours of the evening to observe the raw urban experiences that defined his most famous works—and you'll get to follow his steps over 150 years later.

Add this in-depth excursion

| | |
| --- | --- |
| | British healthcare Q&A |

During an optional question and answer session with a British nurse, gain insight into Britains unique health system and the people behind it. Draw from your knowledge of the U.S. system as you compare and contrast two decidedly different approaches to healthcare.

Add this in-depth excursion

| | |
| --- | --- |
| | London business visit and lecture |

A world leader in business, financial services and culture, London plays an instrumental role in shaping the global marketplace. On this optional excursion, see behind the curtain with a visit to one of Londons leading companies and a business lecture by a professor from Hult International Business School.

Day 7: Depart for home
Day 1: Fly overnight to England

Day 2: London

Take a walking tour of London

The Strand
Trafalgar Square
Leicester Square
Covent Garden

Enjoy a fish and chips dinner

Day 3: London

Take a guided tour of London:

Big Ben and Houses of Parliament
Piccadilly Circus
St. Paul's Cathedral
Westminster Abbey
Changing of the Guard at Buckingham Palace (if scheduled)

Take a guided tour of Windsor

Windsor Castle
St. George's Chapel
Queen Mary's Dolls' House

Day 4: London

Add this in-depth excursion

| | |
| --- | --- |
| | Bath and Stonehenge |

Take in two world-class archaeological sites on this full-day optional excursion. First, you'll visit Bath, built in the 1st century as a vacation retreat for the empire's elite. Then, continue on to unmistakable Stonehenge, whose exact origin and purpose remain shrouded in mystery more than 4,000 years after its construction.

Day 5: London

Take a guided tour of the Tower of London

Take a guided tour of the British Museum

Attend a theater performance

Day 6: London

Enjoy free time in London

Choose from three optional activities:

Add this in-depth excursion

| | |
| --- | --- |
| | Dickensian Walking Tour |

It's not hard to put yourself in the shoes (or "crabshells" in Victorian slang) of Dickens' characters as you walk by the centuries-old pubs and Georgian courtyards that litter the streets of London. Dickens was famous for traipsing through central neighborhoods at all hours of the evening to observe the raw urban experiences that defined his most famous works—and you'll get to follow his steps over 150 years later.

Add this in-depth excursion

| | |
| --- | --- |
| | British healthcare Q&A |

During an optional question and answer session with a British nurse, gain insight into Britains unique health system and the people behind it. Draw from your knowledge of the U.S. system as you compare and contrast two decidedly different approaches to healthcare.

Add this in-depth excursion

| | |
| --- | --- |
| | London business visit and lecture |

A world leader in business, financial services and culture, London plays an instrumental role in shaping the global marketplace. On this optional excursion, see behind the curtain with a visit to one of Londons leading companies and a business lecture by a professor from Hult International Business School.

Day 7: Depart for home
Round-trip airfare

Your price includes round-trip airfare for your whole group

Accommodations

5 overnight stays in hotels with private bathrooms (7 with extension)

On-tour transportation

Land transportation; water transportation with extension

Regional-style meals

Light breakfast daily; 2 local dinners or 3 with extension

Full-time Tour Director

We have the best Tour Directors in the business; Your group will have a trusted, friendly guide at your side full-time on tour to manage all logistics, offer insight and guidance, and respond to any unexpected challenges

Guided sightseeing

London; Windsor; Tower of London; British Museum; With extension: Paris

Entrances

Windsor; Tower of London; British Museum; Evening theater performance; With extension: Louvre; Notre Dame

Worldwide support, safety and security

We have over 400 schools and offices in more than 50 countries, which means if something happens, we can react quickly and in person; We also include our $15 million liability policy and $1 million consumer protection plan at no additional cost to travelers

Curriculum Integration

We provide support and expertise to help you integrate academic goals into your tour itinerary as needed