Rome & Paris
Enroll now and lock in the price.
Tour Number: 1566210AU
Group Leader's Name: Rachel Satzman
Departure Date: 12/13/2014
Return Dates: 12/20/2014
Departure Gateway: Wilmington
8 days
Take the time you need to explore the food, art and sights that define these two cities
Countless highlights vie for your attention from the banks of the Seine and the Tiber.
You can weigh in on the age-old culinary rivalry as you bite into a pizza fresh out of an Italian oven. Between the bowl of the Colosseum and the top of the Eiffel Tower, you'll walk in the footsteps of Caesar, Napoleon and other immortals. You'll also have the chance to discover the wonder that is Pompeii.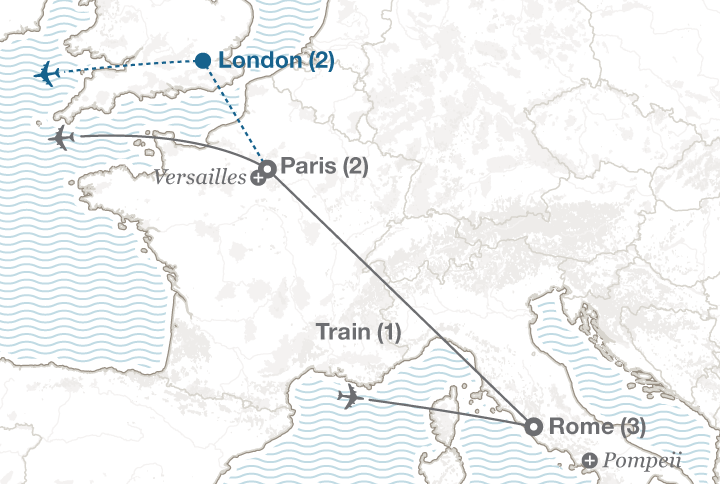 Day 1: Fly overnight to Italy

Day 2: Rome

Day 3: Rome

Take a guided tour of Rome

Take a self-guided walking tour of Rome:

Trevi Fountain
Pantheon
Spanish Steps

Add this in-depth excursion

| | |
| --- | --- |
| | Fraschette Dinner in Ariccia |

The tradition of the fraschette goes back to the medieval—and possibly even ancient—times of Rome, and were basically pit stops full of wine for people traveling from the countryside to the capital. Thy have remained nearly unchanged in their rustic and hospitable nature, but today patrons are also treated to generous servings of artisanal cheeses, olives and thick cuts of savory porchetta—whose buttery fame has spread as far Brooklyn but originates right here in Ariccia.


Day 4: Rome

Add this in-depth excursion

| | |
| --- | --- |
| | Pompeii |

Gain unparalleled insight into the lives of the ancient Roman elite on this optional excursion. Buried in volcanic ash in 79 A.D., the former resort town of Pompeii is now fully excavated and, uniquely preserved as it was, one of the world's richest archaeological sites. After a guided tour, enjoy an included lunch and free time before returning to Rome for dinner. Note: Comfortable shoes are recommended.

Day 5: Rome + Night train

Take a guided tour of Vatican City

Visit St. Peter's Basilica

Board a night train to Paris

Day 6: Paris

Take a walking tour of Paris

Visit Notre Dame Cathedral

Day 7: Paris

Take a guided tour of Paris

Place de la Concorde
Champs-Élysées
Arc de Triomphe
Eiffel Tower
Les Invalides

Add this in-depth excursion

| | |
| --- | --- |
| | Versailles |

Welcome to the world headquarters of decadence—the grand palace of Versailles. The enormous estate was built to keep commoners far from its gilded doors and expansive gardens—but fortunately, you won't have to win Louie or Marie's notoriously fickle favor to get in. After spending the day in a maze of manicured shrubbery and the staggering Hall of Mirrors, continue the theme of indulgence by treating yourself at a local patisserie nearby.

Day 8: Depart for home
Day 1: Fly overnight to Italy

Day 2: Rome

Day 3: Rome

Take a guided tour of Rome

Take a self-guided walking tour of Rome:

Trevi Fountain
Pantheon
Spanish Steps

Add this in-depth excursion

| | |
| --- | --- |
| | Fraschette Dinner in Ariccia |

The tradition of the fraschette goes back to the medieval—and possibly even ancient—times of Rome, and were basically pit stops full of wine for people traveling from the countryside to the capital. Thy have remained nearly unchanged in their rustic and hospitable nature, but today patrons are also treated to generous servings of artisanal cheeses, olives and thick cuts of savory porchetta—whose buttery fame has spread as far Brooklyn but originates right here in Ariccia.


Day 4: Rome

Add this in-depth excursion

| | |
| --- | --- |
| | Pompeii |

Gain unparalleled insight into the lives of the ancient Roman elite on this optional excursion. Buried in volcanic ash in 79 A.D., the former resort town of Pompeii is now fully excavated and, uniquely preserved as it was, one of the world's richest archaeological sites. After a guided tour, enjoy an included lunch and free time before returning to Rome for dinner. Note: Comfortable shoes are recommended.

Day 5: Rome + Night train

Take a guided tour of Vatican City

Visit St. Peter's Basilica

Board a night train to Paris

Day 6: Paris

Take a walking tour of Paris

Visit Notre Dame Cathedral

Day 7: Paris

Take a guided tour of Paris

Place de la Concorde
Champs-Élysées
Arc de Triomphe
Eiffel Tower
Les Invalides

Add this in-depth excursion

| | |
| --- | --- |
| | Versailles |

Welcome to the world headquarters of decadence—the grand palace of Versailles. The enormous estate was built to keep commoners far from its gilded doors and expansive gardens—but fortunately, you won't have to win Louie or Marie's notoriously fickle favor to get in. After spending the day in a maze of manicured shrubbery and the staggering Hall of Mirrors, continue the theme of indulgence by treating yourself at a local patisserie nearby.

Day 8: Depart for home
Round-trip airfare

Your price includes round-trip airfare for your whole group

Accommodations

5 overnight stays in hotels with private bathrooms (7 with extension); 1 night train accommodation

On-tour transportation

We arrange all travel details so professors, chaperones and students can enjoy the tour to the fullest. That means we take care of flights, buses, trains, cruise ships, ferries, and subways.

Regional-style meals

Light breakfast daily; 2 local dinners or 3 with extension

Full-time Tour Director

We have the best Tour Directors in the business; Your group will have a trusted, friendly guide at your side full-time on tour to manage all logistics, offer insight and guidance, and respond to any unexpected challenges

Guided sightseeing

Vatican City; Rome; Paris; With extension: London

Worldwide support, safety and security

We have over 400 schools and offices in more than 50 countries, which means if something happens, we can react quickly and in person; We also include our $15 million liability policy and $1 million consumer protection plan at no additional cost to travelers

Curriculum Integration

We provide support and expertise to help you integrate academic goals into your tour itinerary as needed