Paris: The City Experience
Enroll now and lock in the price.
Tour Number: 1555394AA
Group Leader's Name: Monique Oyallon
Departure Date: 5/12/2015
Return Dates: 5/21/2015
Departure Gateway: New York
7 days
Choose from our included themed activities to customize this Blue Ribbon tour
After an inspiring visit to the mighty Louvre, build your own unique Parisian experience.
If your group is curious about French cooking, our classes offer authentic instructions for how to best integrate regional flavors into your own creations. For fashion or business, you'll have the opportunity to go behind the scenes of a fashion studio or a leading business in Paris.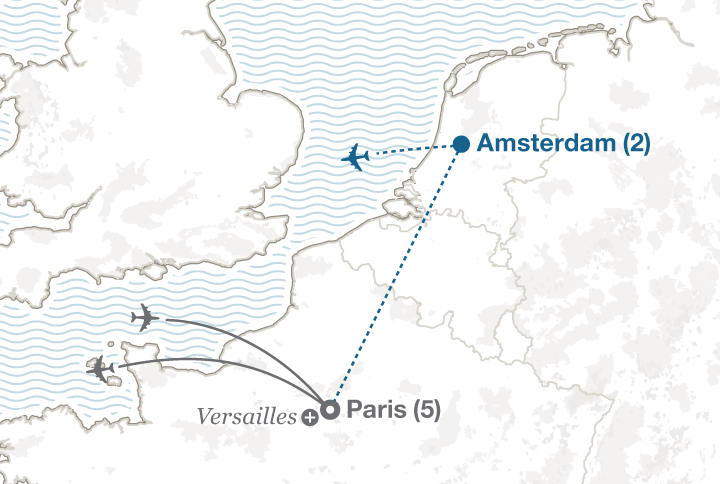 Day 1: Fly overnight to France

Day 2: Paris

Take a walking tour of Paris

Visit Notre Dame Cathedral

Enjoy dinner in the Latin Quarter

Day 3: Paris

Take a guided tour of Paris

Place de la Concorde
Champs-Élysées
Arc de Triomphe
Eiffel Tower
Les Invalides

Day 4: Paris

Choose from three optional activities:

Add this in-depth excursion

| | |
| --- | --- |
| | Paris fashion visit |

On this optional visit, take the opportunity to go behind the scenes at a Parisian fashion house. Visits in the past have included the workspaces of Isadora Ducasse and Joseph Thimister.

Add this in-depth excursion

| | |
| --- | --- |
| | Paris business visit |

Home to the International Chamber of Commerce and 23 of Fortune's Global 500 companies, Paris has firmly established itself as one of the worlds leading business and cultural centers. On this optional visit, you'll explore a leading company in Paris.

Add this in-depth excursion

| | |
| --- | --- |
| | Paris cooking class |

You don't have to be Anthony Bourdain to know that Paris is an international culinary hotspot. From open markets to boutique-style grocery stores, the flavors of France can be found everywhere. But if you really take the time with a professional chef to learn the process behind authentic Parisian cuisine, you'll bring something back home with you that is truly priceless.

Day 5: Paris

Add this in-depth excursion

| | |
| --- | --- |
| | Versailles |

Welcome to the world headquarters of decadence—the grand palace of Versailles. The enormous estate was built to keep commoners far from its gilded doors and expansive gardens—but fortunately, you won't have to win Louie or Marie's notoriously fickle favor to get in. After spending the day in a maze of manicured shrubbery and the staggering Hall of Mirrors, continue the theme of indulgence by treating yourself at a local patisserie nearby.

Day 6: Paris

Take a walking tour of Montmartre:

Place du Tertre
Sacré Coeur

Enjoy dinner in Montmartre

Day 7: Depart for home
Day 1: Fly overnight to France

Day 2: Paris

Take a walking tour of Paris

Visit Notre Dame Cathedral

Enjoy dinner in the Latin Quarter

Day 3: Paris

Take a guided tour of Paris

Place de la Concorde
Champs-Élysées
Arc de Triomphe
Eiffel Tower
Les Invalides

Day 4: Paris

Choose from three optional activities:

Add this in-depth excursion

| | |
| --- | --- |
| | Paris fashion visit |

On this optional visit, take the opportunity to go behind the scenes at a Parisian fashion house. Visits in the past have included the workspaces of Isadora Ducasse and Joseph Thimister.

Add this in-depth excursion

| | |
| --- | --- |
| | Paris business visit |

Home to the International Chamber of Commerce and 23 of Fortune's Global 500 companies, Paris has firmly established itself as one of the worlds leading business and cultural centers. On this optional visit, you'll explore a leading company in Paris.

Add this in-depth excursion

| | |
| --- | --- |
| | Paris cooking class |

You don't have to be Anthony Bourdain to know that Paris is an international culinary hotspot. From open markets to boutique-style grocery stores, the flavors of France can be found everywhere. But if you really take the time with a professional chef to learn the process behind authentic Parisian cuisine, you'll bring something back home with you that is truly priceless.

Day 5: Paris

Add this in-depth excursion

| | |
| --- | --- |
| | Versailles |

Welcome to the world headquarters of decadence—the grand palace of Versailles. The enormous estate was built to keep commoners far from its gilded doors and expansive gardens—but fortunately, you won't have to win Louie or Marie's notoriously fickle favor to get in. After spending the day in a maze of manicured shrubbery and the staggering Hall of Mirrors, continue the theme of indulgence by treating yourself at a local patisserie nearby.

Day 6: Paris

Take a walking tour of Montmartre:

Place du Tertre
Sacré Coeur

Enjoy dinner in Montmartre

Day 7: Depart for home
Round-trip airfare

Your price includes round-trip airfare for your whole group

Accommodations

5 overnight stays in hotels with private bathrooms (7 with extension)

On-tour transportation

Land transportation

Regional-style meals

Light breakfast daily; 2 local dinners or 3 with extension

Full-time Tour Director

We have the best Tour Directors in the business; Your group will have a trusted, friendly guide at your side full-time on tour to manage all logistics, offer insight and guidance, and respond to any unexpected challenges

Guided sightseeing

Paris; With extension: Amsterdam

Entrances

Notre Dame; Louvre; Atelier visit; With extension: Anne Frank House

Worldwide support, safety and security

We have over 400 schools and offices in more than 50 countries, which means if something happens, we can react quickly and in person; We also include our $15 million liability policy and $1 million consumer protection plan at no additional cost to travelers

Curriculum Integration

We provide support and expertise to help you integrate academic goals into your tour itinerary as needed