Art in Rome, Florence & Paris
Enroll now and lock in the price.
Tour Number: 1544212TD
Group Leader's Name: Kalpa Srivats
Departure Date: 6/23/2015
Return Dates: 7/3/2015
Departure Gateway: Philadelphia
11 days
This fast-paced tour keeps you on your feet with art classics always within reach
You'll see artistic highlights of the classic, Renaissance and modern periods in just 11 days.
Start off with the Vatican, where you could spend the afternoon admiring the architecture and famous murals of St. Peter's Basilica and Sistine Chapel, respectively. And what better way to experience the myriad of treasures in the Louvre than with a resident art historian?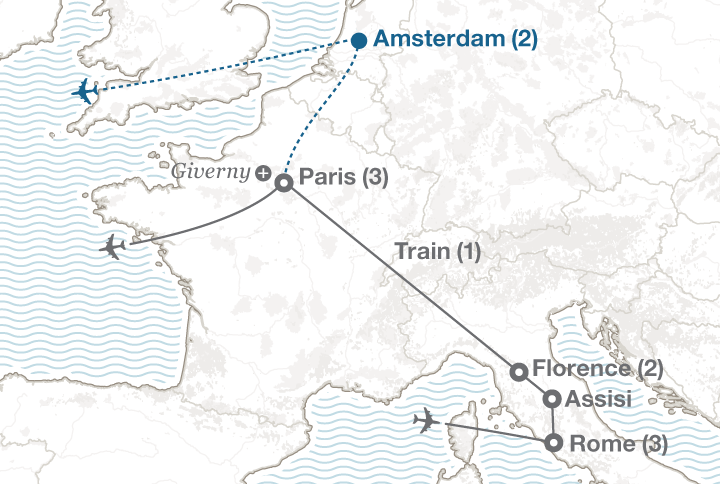 Day 1: Fly overnight to Italy

Day 2: Rome

Day 3: Rome

Take a guided tour of Rome

Take a self-guided walking tour of Rome

Trevi Fountain
Pantheon
Piazza Navona
Spanish Steps

Add this in-depth excursion

| | |
| --- | --- |
| | Fraschette Dinner in Ariccia |

The tradition of the fraschette goes back to the medieval—and possibly even ancient—times of Rome, and were basically pit stops full of wine for people traveling from the countryside to the capital. Thy have remained nearly unchanged in their rustic and hospitable nature, but today patrons are also treated to generous servings of artisanal cheeses, olives and thick cuts of savory porchetta—whose buttery fame has spread as far Brooklyn but originates right here in Ariccia.


Day 4: Rome

Take a guided tour of Vatican City

Visit St. Peter's Basilica

Add this in-depth excursion

| | |
| --- | --- |
| | Caravaggio art tour |

Michelangelo Merisi da Caravaggio had a formative influence on the Baroque school of painting. On this optional walking tour, you'll view some of the Italian artist's most famous works spread among three stunning churches.

Day 5: Assisi + Florence

Visit the Basilica of St. Francis

Day 6: Florence

Take an art-themed tour of Florence with a local professor

Day 7: Florence + Night train

Board a night train to Paris

Day 8: Paris

Take a guided tour of Paris

Place de la Concorde
Champs-Élysées
Arc de Triomphe
Eiffel Tower
Les Invalides

Visit Notre Dame Cathedral

Enjoy dinner in the Latin Quarter

Day 9: Paris

Take a guided tour of the Louvre with an expert local guide

Visit an artist's atelier

Day 10: Paris

Take a guided tour of the Museé d'Orsay with an expert local guide

Add this in-depth excursion

| | |
| --- | --- |
| | Van Gogh's Auvers-sur-Oise |

Nestled in the northwestern suburbs of Paris, the commune of Auvers-sur-Oise has been called home by many of the most famous French Impressionists, van Gogh and Cézanne among them. On this optional excursion, you'll tour the small town and visit the House of van Gogh. Note: Only available between Nov. 1-March 31.

Add this in-depth excursion

| | |
| --- | --- |
| | Monet's Giverny Gardens |

Opt to visit the quaint village where Claude Monet lived and worked for over 40 years. See the gardens that inspired for the painter's famous works his gardens, and see what inspired the man himself on a tour of his former home. Note: Only available between April 1-Oct. 31. Monet's home is closed Mondays.

Day 11: Depart for home
Day 1: Fly overnight to Italy

Day 2: Rome

Day 3: Rome

Take a guided tour of Rome

Take a self-guided walking tour of Rome

Trevi Fountain
Pantheon
Piazza Navona
Spanish Steps

Add this in-depth excursion

| | |
| --- | --- |
| | Fraschette Dinner in Ariccia |

The tradition of the fraschette goes back to the medieval—and possibly even ancient—times of Rome, and were basically pit stops full of wine for people traveling from the countryside to the capital. Thy have remained nearly unchanged in their rustic and hospitable nature, but today patrons are also treated to generous servings of artisanal cheeses, olives and thick cuts of savory porchetta—whose buttery fame has spread as far Brooklyn but originates right here in Ariccia.


Day 4: Rome

Take a guided tour of Vatican City

Visit St. Peter's Basilica

Add this in-depth excursion

| | |
| --- | --- |
| | Caravaggio art tour |

Michelangelo Merisi da Caravaggio had a formative influence on the Baroque school of painting. On this optional walking tour, you'll view some of the Italian artist's most famous works spread among three stunning churches.

Day 5: Assisi + Florence

Visit the Basilica of St. Francis

Day 6: Florence

Take an art-themed tour of Florence with a local professor

Day 7: Florence + Night train

Board a night train to Paris

Day 8: Paris

Take a guided tour of Paris

Place de la Concorde
Champs-Élysées
Arc de Triomphe
Eiffel Tower
Les Invalides

Visit Notre Dame Cathedral

Enjoy dinner in the Latin Quarter

Day 9: Paris

Take a guided tour of the Louvre with an expert local guide

Visit an artist's atelier

Day 10: Paris

Take a guided tour of the Museé d'Orsay with an expert local guide

Add this in-depth excursion

| | |
| --- | --- |
| | Van Gogh's Auvers-sur-Oise |

Nestled in the northwestern suburbs of Paris, the commune of Auvers-sur-Oise has been called home by many of the most famous French Impressionists, van Gogh and Cézanne among them. On this optional excursion, you'll tour the small town and visit the House of van Gogh. Note: Only available between Nov. 1-March 31.

Add this in-depth excursion

| | |
| --- | --- |
| | Monet's Giverny Gardens |

Opt to visit the quaint village where Claude Monet lived and worked for over 40 years. See the gardens that inspired for the painter's famous works his gardens, and see what inspired the man himself on a tour of his former home. Note: Only available between April 1-Oct. 31. Monet's home is closed Mondays.

Day 11: Depart for home
Round-trip airfare

Your price includes round-trip airfare for your whole group

Accommodations

8 overnight stays in hotels with private bathrooms (10 with extension); 1 night train accomodation

On-tour transportation

Land transportation

Regional-style meals

Light breakfast daily; 3 local dinners or 4 with extension

Full-time Tour Director

We have the best Tour Directors in the business; Your group will have a trusted, friendly guide at your side full-time on tour to manage all logistics, offer insight and guidance, and respond to any unexpected challenges

Guided sightseeing

Rome; Vatican City; Florence; Paris; Louvre; Musee d'Orsay; With extension: Amsterdam

Entrances

Colosseum; Roman Forum; Sistine Chapel; St. Peter's Basilica; Basilica of St. Francis; Duomo; Leathermaking demonstration; Accademia; Uffizi Gallery; Notre Dame; Louvre; Musée D'Orsay; With extension: Rijksmuseum; Anne Frank House

Worldwide support, safety and security

We have over 400 schools and offices in more than 50 countries, which means if something happens, we can react quickly and in person; We also include our $15 million liability policy and $1 million consumer protection plan at no additional cost to travelers

Curriculum Integration

We provide support and expertise to help you integrate academic goals into your tour itinerary as needed