Spain: Land of Many Cultures
Enroll now and lock in the price.
Tour Number: 1539029JR
Group Leader's Name: Cindi Nadelman
Departure Date: 1/8/2015
Return Dates: 1/18/2015
Departure Gateway: Boston
11 days
Barcelona, Costa del Sol, Seville, Madrid, extension to Lisbon
A millennia of cultivation finds synagogues, mosques and cathedrals sitting side by side.
In a country composed of 17 autonomous states, five official languages and three distinct religions, there is a lot happening that isn't as simple as just "Spanish." Dive into this unexpected melting pot, where a history of international influence has formed a land of many cultures.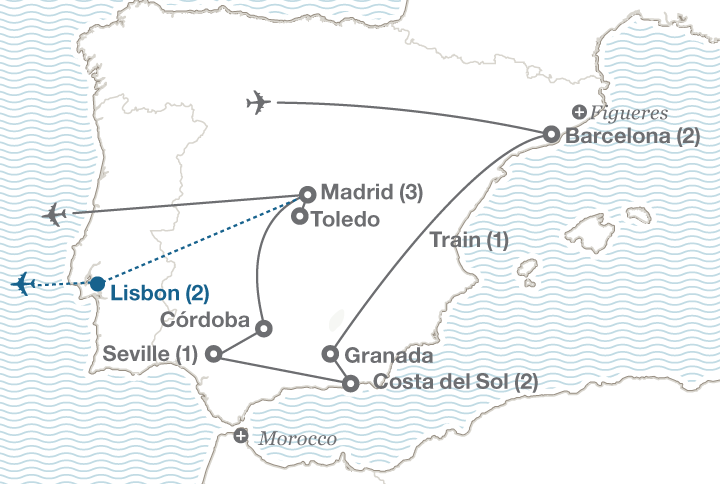 Day 1: Fly overnight to Spain

Day 2: Barcelona

Take a walking tour of Barcelona

Enjoy dinner at a local restaurant

Day 3: Barcelona

Take a guided tour of Barcelona

La Sagrada Familia
Montjuïc Hill
Barrio Gótico
Barcelona Cathedral

Day 4: Barcelona + Night train

Enjoy free time in Barcelona

Add this in-depth excursion

| | |
| --- | --- |
| | Dalí Museum in Figueres |

Join a half-day excursion to Figueres, a Catalan city on the exquisite Costa Brava and birthplace of renowned Spanish artist Salvador Dalí. You will visit Teatre-Museu Gala Salvador Dalí, a one-of-a-kind theater museum designed by and dedicated to the surrealist world of Dalí. It contains the broadest range of Dali's works and offers a unique opportunity to step into the world of the artist.

Board a night train to Granada

Day 5: Granada + Costa del Sol

Take a guided tour of Granada

Travel to the Costa del Sol

Day 6: Costa del Sol

Add this in-depth excursion

| | |
| --- | --- |
| | Morocco |

Enter a world of mosques, camels, snake charmers and bustling markets as you ferry across the Strait of Gibraltar for a full-day excursion. Travel to Tetouan and see the Andalusian and Islamic-influenced architecture as a local guide leads you through the Medina and Hassan II Square. Visit a carpet bazaar and a spice shop before enjoying an included Moroccan lunch. Excursion is weather dependent.

Day 7: Seville

Take a guided tour of Seville

Visit the Seville Alcázar

Visit the Seville Cathedral

Day 8: Madrid

Travel via Puerto Lápice to Madrid

Day 9: Madrid + Toledo

Take a guided tour of Madrid

Plaza Mayor
Puerta del Sol

Take a guided tour of Toledo

Visit the Toledo Cathedral

Visit the Church of Santo Tomé

Day 10: Madrid

Take a walking tour of Madrid

Enjoy dinner in Madrid's Old Town

Add this in-depth excursion

| | |
| --- | --- |
| | Cooking class |

Spanish cuisine is as diverse as the country's geography, climate and culture. Since being established as the capital of Spain by King Felipe II in the 16th century, Madrid has been a true melting pot of the cuisines developed in the country's various regions. This mouth-watering optional excursion gives your group a chance to prepare—and savor!—a Spanish specialty of your own.

Day 11: Depart for home
Day 1: Fly overnight to Spain

Day 2: Barcelona

Take a walking tour of Barcelona

Enjoy dinner at a local restaurant

Day 3: Barcelona

Take a guided tour of Barcelona

La Sagrada Familia
Montjuïc Hill
Barrio Gótico
Barcelona Cathedral

Day 4: Barcelona + Night train

Enjoy free time in Barcelona

Add this in-depth excursion

| | |
| --- | --- |
| | Dalí Museum in Figueres |

Join a half-day excursion to Figueres, a Catalan city on the exquisite Costa Brava and birthplace of renowned Spanish artist Salvador Dalí. You will visit Teatre-Museu Gala Salvador Dalí, a one-of-a-kind theater museum designed by and dedicated to the surrealist world of Dalí. It contains the broadest range of Dali's works and offers a unique opportunity to step into the world of the artist.

Board a night train to Granada

Day 5: Granada + Costa del Sol

Take a guided tour of Granada

Travel to the Costa del Sol

Day 6: Costa del Sol

Add this in-depth excursion

| | |
| --- | --- |
| | Morocco |

Enter a world of mosques, camels, snake charmers and bustling markets as you ferry across the Strait of Gibraltar for a full-day excursion. Travel to Tetouan and see the Andalusian and Islamic-influenced architecture as a local guide leads you through the Medina and Hassan II Square. Visit a carpet bazaar and a spice shop before enjoying an included Moroccan lunch. Excursion is weather dependent.

Day 7: Seville

Take a guided tour of Seville

Visit the Seville Alcázar

Visit the Seville Cathedral

Day 8: Madrid

Travel via Puerto Lápice to Madrid

Day 9: Madrid + Toledo

Take a guided tour of Madrid

Plaza Mayor
Puerta del Sol

Take a guided tour of Toledo

Visit the Toledo Cathedral

Visit the Church of Santo Tomé

Day 10: Madrid

Take a walking tour of Madrid

Enjoy dinner in Madrid's Old Town

Add this in-depth excursion

| | |
| --- | --- |
| | Cooking class |

Spanish cuisine is as diverse as the country's geography, climate and culture. Since being established as the capital of Spain by King Felipe II in the 16th century, Madrid has been a true melting pot of the cuisines developed in the country's various regions. This mouth-watering optional excursion gives your group a chance to prepare—and savor!—a Spanish specialty of your own.

Day 11: Depart for home
Round-trip airfare

Your price includes round-trip airfare for your whole group

Accommodations

8 overnight stays in hotels with private bathrooms (10 with extension); 1 overnight train accomodation

On-tour transportation

Land transportation

Regional-style meals

Light breakfast daily; 5 local dinners or 6 with extension

Full-time Tour Director

We have the best Tour Directors in the business; Your group will have a trusted, friendly guide at your side full-time on tour to manage all logistics, offer insight and guidance, and respond to any unexpected challenges

Guided sightseeing

Barcelona; Granada; Seville; Madrid; Toledo; With extension: Lisbon

Entrances

Parque Guell; Alhambra; Royal Palace; Alcazar; Seville Cathedral; Mezquita; Prado; Toledo Cathedral; Church of Santo Tome; Synagogue; With extension: Roman Theater; Castelo de São Jorge; Mosteiro dos Jerónimos Museum

Worldwide support, safety and security

We have over 400 schools and offices in more than 50 countries, which means if something happens, we can react quickly and in person; We also include our $15 million liability policy and $1 million consumer protection plan at no additional cost to travelers

Curriculum Integration

We provide support and expertise to help you integrate academic goals into your tour itinerary as needed