The Galápagos
Enroll now and lock in the price.
Tour Number: 1516900WN
Group Leader's Name: Andrew Hamilton
Departure Date: 5/20/2015
Return Dates: 5/30/2015
Departure Gateway: Houston
11 days
This active adventure through the natural world is one of our Blue Ribbon tours
Known as "that land of craters" to Darwin, the Galápagos surpass expectations on first sight.
The views you'll get descending upon Baltra by plane offer a glimpse of our Earth at its geological extremes, with Pinnacle Rock cutting into the horizon. On the ground, this kaleidoscope of landscapes becomes real, and the black rock becomes your pathway to a new understanding of the world.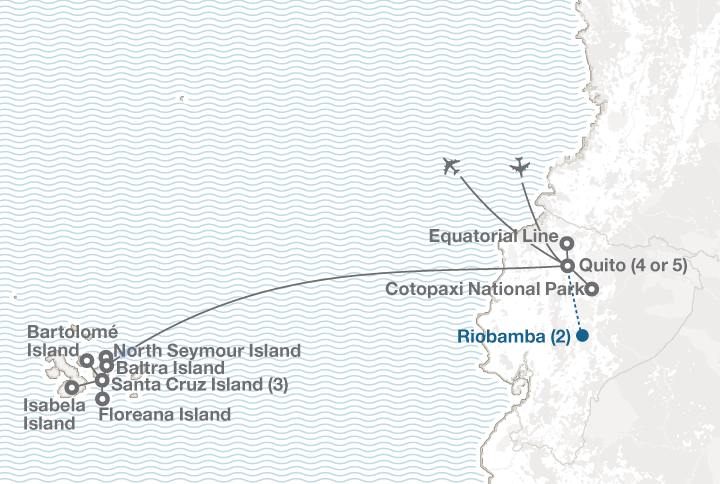 Day 1: Fly to Ecuador

Day 2: Quito

Take a guided tour of Quito

Independence Plaza
Government Palace

Visit Santo Domingo Monastery

Take an excursion to the equatorial line

Day 3: Baltra + Santa Cruz

Continue to Santa Cruz Island

Visit the Charles Darwin Research Station

Day 4: San Cristóbal island

Enjoy a boat excursion to San Cristóbal Island

Day 5: Floreana Island

Enjoy a boat excursion to Floreana Island

Day 6: Santa Cruz + Quito

Day 7: Cotopaxi

Visit Cotopaxi National Park

Day 8: Riobamba

Day 9: Riobamba + Guamote

Experiential learning: Cultural exchange activities**

Day 10: Riobamba + Guamote + Quito

Experiential learning: Cultural exchange activities**

Day 11: Depart for home
Day 1: Fly to Ecuador

Day 2: Quito

Take a guided tour of Quito

Independence Plaza
Government Palace

Visit Santo Domingo Monastery

Take an excursion to the equatorial line

Day 3: Baltra + Santa Cruz

Continue to Santa Cruz Island

Visit the Charles Darwin Research Station

Day 4: San Cristóbal island

Enjoy a boat excursion to San Cristóbal Island

Day 5: Floreana Island

Enjoy a boat excursion to Floreana Island

Day 6: Santa Cruz + Quito

Day 7: Cotopaxi

Visit Cotopaxi National Park

Day 8: Riobamba

Day 9: Riobamba + Guamote

Experiential learning: Cultural exchange activities**

Day 10: Riobamba + Guamote + Quito

Experiential learning: Cultural exchange activities**

Day 11: Depart for home
Round-trip airfare

Your price includes round-trip airfare for your whole group

Accommodations

7 overnight stays in hotels with private bathrooms (10 with extension)

On-tour transportation

We arrange all travel details so professors, chaperones and students can enjoy the tour to the fullest. That means we take care of flights, buses, trains, cruise ships, ferries, and subways.

Regional-style meals

Light breakfast; 5 lunches; 4 dinners or 7 with extension

Full-time Tour Director

We have the best Tour Directors in the business; Your group will have a trusted, friendly guide at your side full-time on tour to manage all logistics, offer insight and guidance, and respond to any unexpected challenges

Guided sightseeing

Quito; Equatorial Line

Entrances

Santo Domingo Monastery; Intinan Museum; Charles Darwin Research Station; Cotopaxi National Park

Worldwide support, safety and security

We have over 400 schools and offices in more than 50 countries, which means if something happens, we can react quickly and in person; We also include our $15 million liability policy and $1 million consumer protection plan at no additional cost to travelers

Curriculum Integration

We provide support and expertise to help you integrate academic goals into your tour itinerary as needed