Italy & Greece
Enroll now and lock in the price.
Tour Number: 1451091TZ
Group Leader's Name: Lianne Williamson
Departure Date: 10/4/2014
Return Dates: 10/15/2014
Departure Gateway: Atlanta
10 days
Rome, Sorrento, Delphi, Athens, extension cruise to the Greek Isles
Surrounded by some of humankind's greatest treasures, every breath is a history lesson.
You'll walk through the Parthenon and the Colosseum as Titus did, and wonder how these architectural icons could have been any more breathtaking in his time. Shimmering marble and cracking stone—in both cities—serve as marked reminders of the peaks of both as ancient world-conquering powers.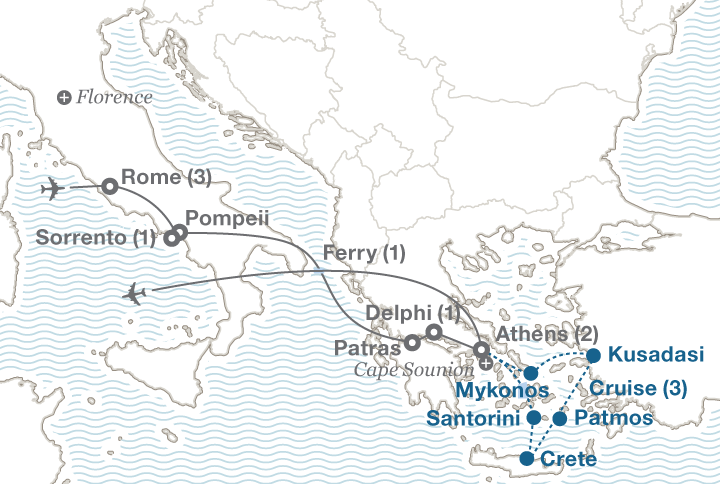 Day 1: Fly overnight to Italy

Day 2: Rome

Take a self-guided walking tour of Rome

Trevi Fountain
Pantheon
Piazza Navona
Spanish Steps

Day 3: Rome

Take a guided tour of Vatican City

Visit St. Peter's Basilica

Take a guided tour of Rome

Day 4: Rome

Add this in-depth excursion

| | |
| --- | --- |
| | Florence by train |

Of the many unifying wonders found throughout the European Union, the high-speed rail network may be the most impressive. As you watch the dynamic Tuscan landscape change before your eyes, you'll be just moments away from discovering the birthplace of the Italian language, the Renaissance movement and opera—Florence awaits you. Spend the day exploring the colossal Santa Maria del Fiore Cathedral and participating in an authentic leather-making demonstration.

Day 5: Sorrento

Travel to the Sorrento Region

Take a guided tour of Vesuvius

Day 6: Pompeii

Take a guided tour of Pompeii

Board a night ferry to Patras

Day 7: Patras + Delphi

Day 8: Delphi + Athens

Take a guided tour of Delphi

Day 9: Athens

Take a guided tour of Athens:

Visit the Acropolis

Parthenon
Temple of Athena Nike

Take a walking tour of Athens

Plaka district
Temple of Olympian Zeus

Add this in-depth excursion

| | |
| --- | --- |
| | Cape Sounion with dinner |

According to legend, Cape Sounion is the spot where Aegeus, king of Athens, leapt to his death off the cliff, thus giving his name to the Aegean Sea. Visit the ancient Temple of Poseidon, where 15 of the original columns are still standing. Look for the column where Lord Byron carved his name! End your excursion with an included dinner of Greek specialties.

Day 10: Depart for home
Day 1: Fly overnight to Italy

Day 2: Rome

Take a self-guided walking tour of Rome

Trevi Fountain
Pantheon
Piazza Navona
Spanish Steps

Day 3: Rome

Take a guided tour of Vatican City

Visit St. Peter's Basilica

Take a guided tour of Rome

Day 4: Rome

Add this in-depth excursion

| | |
| --- | --- |
| | Florence by train |

Of the many unifying wonders found throughout the European Union, the high-speed rail network may be the most impressive. As you watch the dynamic Tuscan landscape change before your eyes, you'll be just moments away from discovering the birthplace of the Italian language, the Renaissance movement and opera—Florence awaits you. Spend the day exploring the colossal Santa Maria del Fiore Cathedral and participating in an authentic leather-making demonstration.

Day 5: Sorrento

Travel to the Sorrento Region

Take a guided tour of Vesuvius

Day 6: Pompeii

Take a guided tour of Pompeii

Board a night ferry to Patras

Day 7: Patras + Delphi

Day 8: Delphi + Athens

Take a guided tour of Delphi

Day 9: Athens

Take a guided tour of Athens:

Visit the Acropolis

Parthenon
Temple of Athena Nike

Take a walking tour of Athens

Plaka district
Temple of Olympian Zeus

Add this in-depth excursion

| | |
| --- | --- |
| | Cape Sounion with dinner |

According to legend, Cape Sounion is the spot where Aegeus, king of Athens, leapt to his death off the cliff, thus giving his name to the Aegean Sea. Visit the ancient Temple of Poseidon, where 15 of the original columns are still standing. Look for the column where Lord Byron carved his name! End your excursion with an included dinner of Greek specialties.

Day 10: Depart for home
Round-trip airfare

Your price includes round-trip airfare for your whole group

Accommodations

7 overnight stays in hotels with private bathrooms and night ferry accommodations (3 nights of cruise accommodations with extension)

On-tour transportation

Land and water transportation

Regional-style meals

Light breakfast daily; 5 local dinners; 3 meals daily with cruise extension

Full-time Tour Director

We have the best Tour Directors in the business; Your group will have a trusted, friendly guide at your side full-time on tour to manage all logistics, offer insight and guidance, and respond to any unexpected challenges

Guided sightseeing

Rome; Vesuvius; Pompeii; Delphi; Athens; Vatican City

Entrances

Sistine Chapel; St. Peter's Basilica; Colosseum; Roman Forum; Vesuvius; Ruins of Pompeii; Delphi site; Delphi Museum; Acropolis; With extension: Greek cruise

Worldwide support, safety and security

We have over 400 schools and offices in more than 50 countries, which means if something happens, we can react quickly and in person; We also include our $15 million liability policy and $1 million consumer protection plan at no additional cost to travelers

Curriculum Integration

We provide support and expertise to help you integrate academic goals into your tour itinerary as needed