London & Paris
Enroll now and lock in the price.
Tour Number: 1434258BS
Group Leader's Name: Ronda Taylor
Departure Date: 5/11/2015
Return Dates: 5/18/2015
Departure Gateway: Indianapolis
8 days
England, France, extension to Amsterdam
Introduce yourself to Europe's best on both sides of the English Channel (or "la Manche").
Survey rich landscapes from the banks of the Thames and the Seine, and measure skyline-shaping domes at St. Paul's Cathedral and Sacré Coeur Basilica. You can compare medieval stalwart Windsor Castle to its much younger French cousin the Palace of Versailles, though both are equally majestic.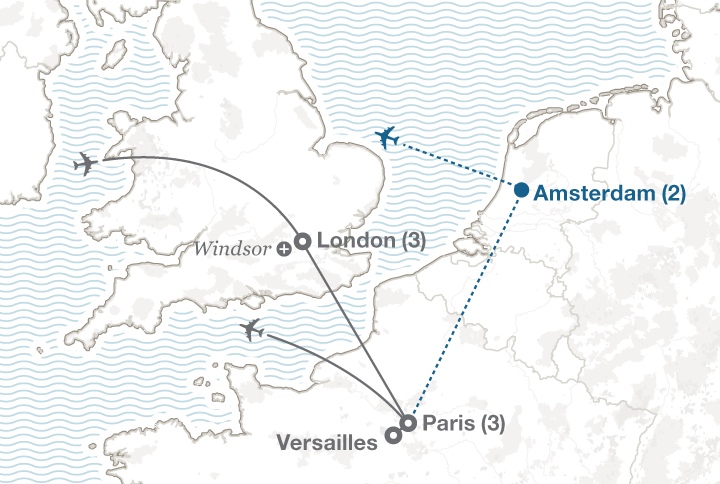 Day 1: Fly overnight to England

Day 2: London

Take a walking tour of London

The Strand
Trafalgar Square
Leicester Square
Covent Garden

Day 3: London

Take a guided tour of London

Big Ben and Houses of Parliament
Piccadilly Circus
St. Paul's Cathedral
Changing of the Guard at Buckingham Palace (if scheduled)

Take a guided tour of Windsor

Windsor Castle
St. George's Chapel
Queen Mary's Dolls' House

Day 4: London

Enjoy free time in London

Add this in-depth excursion

| | |
| --- | --- |
| | Oxford |

Explore the world's oldest university town and take in the spired city that generations of great thinkers called home. Oxford is the alma mater for many notable figures, including British Prime Ministers Tony Blair and Margaret Thatcher. Visit the New College, one of Oxford's most prestigious constituent colleges, step inside the restored Chapel and see the ancient, ivy-cloaked Oxford City wall.

Day 5: London + Paris

Travel by Eurostar train to Paris

Take a guided tour of Paris

Place de la Concorde
Champs-Élysées
Arc de Triomphe
Eiffel Tower
Les Invalides

Take a walking tour of Montmartre:

Place du Tertre
Sacré Coeur

Enjoy dinner in Montmartre

Day 6: Versailles + Paris

Day 7: Paris

Take a walking tour of Paris

Visit Notre Dame Cathedral

Day 8: Depart for home
Day 1: Fly overnight to England

Day 2: London

Take a walking tour of London

The Strand
Trafalgar Square
Leicester Square
Covent Garden

Day 3: London

Take a guided tour of London

Big Ben and Houses of Parliament
Piccadilly Circus
St. Paul's Cathedral
Changing of the Guard at Buckingham Palace (if scheduled)

Take a guided tour of Windsor

Windsor Castle
St. George's Chapel
Queen Mary's Dolls' House

Day 4: London

Enjoy free time in London

Add this in-depth excursion

| | |
| --- | --- |
| | Oxford |

Explore the world's oldest university town and take in the spired city that generations of great thinkers called home. Oxford is the alma mater for many notable figures, including British Prime Ministers Tony Blair and Margaret Thatcher. Visit the New College, one of Oxford's most prestigious constituent colleges, step inside the restored Chapel and see the ancient, ivy-cloaked Oxford City wall.

Day 5: London + Paris

Travel by Eurostar train to Paris

Take a guided tour of Paris

Place de la Concorde
Champs-Élysées
Arc de Triomphe
Eiffel Tower
Les Invalides

Take a walking tour of Montmartre:

Place du Tertre
Sacré Coeur

Enjoy dinner in Montmartre

Day 6: Versailles + Paris

Day 7: Paris

Take a walking tour of Paris

Visit Notre Dame Cathedral

Day 8: Depart for home
Round-trip airfare

Your price includes round-trip airfare for your whole group

Accommodations

6 overnight stays in hotels with private bathrooms (8 with extension)

On-tour transportation

Land transportation

Regional-style meals

Light breakfast daily; 2 local dinners or 3 with extension

Full-time Tour Director

We have the best Tour Directors in the business; Your group will have a trusted, friendly guide at your side full-time on tour to manage all logistics, offer insight and guidance, and respond to any unexpected challenges

Guided sightseeing

London; Versailles; Windsor; Paris; With extension: Amsterdam

Worldwide support, safety and security

We have over 400 schools and offices in more than 50 countries, which means if something happens, we can react quickly and in person; We also include our $15 million liability policy and $1 million consumer protection plan at no additional cost to travelers

Curriculum Integration

We provide support and expertise to help you integrate academic goals into your tour itinerary as needed