Edinburgh & London
Enroll now and lock in the price.
Tour Number: 1426487ZY
Group Leader's Name: Michael Fukuchi
Departure Date: 3/5/2015
Return Dates: 3/14/2015
Departure Gateway: Raleigh
10 days
Walk at your own pace through the history and arts of these two cities
Put on your walking shoes and take to the streets of two of Europe's most spellbinding cities.
Still going strong after nearly 900 years, Edinburgh's dramatic cityscape includes a medley of tangled cobbled streets in Old Town and the quiet elegance of New Town. In London, you'll discover exactly what made a quarter of the world run through the Thames.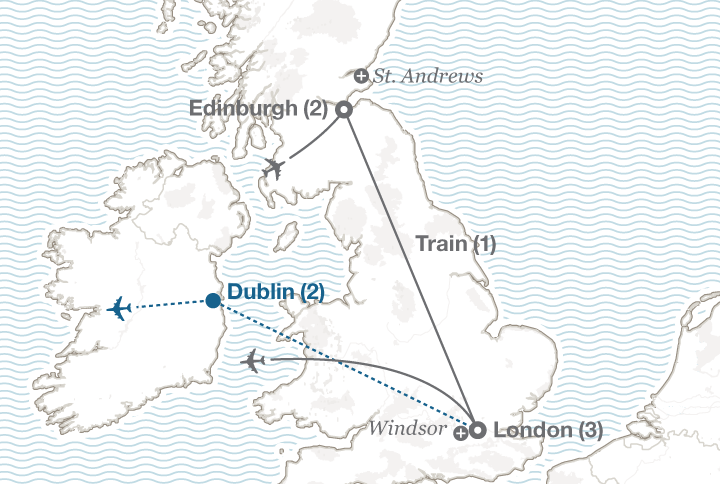 Day 1: Fly overnight to Scotland

Day 2: Edinburgh

Arrive in Glasgow or Edinburgh

Take a walking tour of Edinburgh

Day 3: Edinburgh

Take a guided tour of Edinburgh

Enjoy free time in the afternoon

Add this in-depth excursion

| | |
| --- | --- |
| | Literary walking tour |

Join a literary walking tour of Edinburgh's historic courtyards, alleys and pubs. Explore more than 300 years of great writing and memorable characters as performers lead you on an exciting duel of wits. Discover how the unique atmosphere of Scotland contributed to the creative and intellectual thought of its famous writers. End your evening with an included dinner. (Not available Dec. 25-Jan. 1.)

Enjoy dinner in Edinburgh

Day 4: Edinburgh + Night train

Enjoy free time in Edinburgh

Add this in-depth excursion

| | |
| --- | --- |
| | St. Andrews University |

Take a guided walk through the Gaelic beauty of St. Andrews University, one of the oldest Universities in the English-speaking world—and the site where a young Kate Middleton and Prince William started a world-famous romance. This prestigious and beautiful campus is like a real-life Hogwarts, complete with cursed cobblestones and John Cleese alumnus.

Board a night train to London

Day 5: London

Take a guided tour of London:

Big Ben and Houses of Parliament
Piccadilly Circus
St. Paul's Cathedral
Westminster Abbey
Changing of the Guard at Buckingham Palace (if scheduled)

Enjoy a fish and chips dinner

Day 6: London

Visit the Tower of London

Add this in-depth excursion

| | |
| --- | --- |
| | Windsor Castle |

Sometimes you just need 13 acres of castles, towers and gardens to really unwind—or at least you do if you're a member of the royal family. Wander onto this tremendous retreat favored by the Royal Family for the afternoon, and explore what is essentially a small town. Behind the walls of its exquisite architecture you'll find treasures that date back to its origins in 1070—from original Da Vinci sketches to the royal remains of monarchs past.

Day 7: London

Enjoy free time in London to attend court hearings

Choose from three optional activities:

Add this in-depth excursion

| | |
| --- | --- |
| | London Parliament visit and lecture |

The vertical architecture of the Palace of Westminster's three towers (including the Elizabeth Tower, or Big Ben) sits starkly on the Thames River affording visitors one of the most breathtaking and iconic views in Europe. Step inside the Palace's halls where you'll discover how the House of Commons and the House of Lords work together during a parliamentary-themed lecture.

Add this in-depth excursion

| | |
| --- | --- |
| | British healthcare Q&A |

During an optional question and answer session with a British nurse, gain insight into Britains unique health system and the people behind it. Draw from your knowledge of the U.S. system as you compare and contrast two decidedly different approaches to healthcare.

Add this in-depth excursion

| | |
| --- | --- |
| | London business visit and lecture |

A world leader in business, financial services and culture, London plays an instrumental role in shaping the global marketplace. On this optional excursion, see behind the curtain with a visit to one of Londons leading companies and a business lecture by a professor from Hult International Business School.

Day 8: Dublin

Take a walking tour of Dublin

Grafton Street
Temple Bar

Enjoy free time in the afternoon

Enjoy a Guinness stew dinner

Day 9: Dublin

Take a guided tour of Dublin:

Phoenix Park
Georgian squares

See the Book of Kells at Trinity College

Visit St. Patrick's Cathedral

Day 10: Depart for home
Day 1: Fly overnight to Scotland

Day 2: Edinburgh

Arrive in Glasgow or Edinburgh

Take a walking tour of Edinburgh

Day 3: Edinburgh

Take a guided tour of Edinburgh

Enjoy free time in the afternoon

Add this in-depth excursion

| | |
| --- | --- |
| | Literary walking tour |

Join a literary walking tour of Edinburgh's historic courtyards, alleys and pubs. Explore more than 300 years of great writing and memorable characters as performers lead you on an exciting duel of wits. Discover how the unique atmosphere of Scotland contributed to the creative and intellectual thought of its famous writers. End your evening with an included dinner. (Not available Dec. 25-Jan. 1.)

Enjoy dinner in Edinburgh

Day 4: Edinburgh + Night train

Enjoy free time in Edinburgh

Add this in-depth excursion

| | |
| --- | --- |
| | St. Andrews University |

Take a guided walk through the Gaelic beauty of St. Andrews University, one of the oldest Universities in the English-speaking world—and the site where a young Kate Middleton and Prince William started a world-famous romance. This prestigious and beautiful campus is like a real-life Hogwarts, complete with cursed cobblestones and John Cleese alumnus.

Board a night train to London

Day 5: London

Take a guided tour of London:

Big Ben and Houses of Parliament
Piccadilly Circus
St. Paul's Cathedral
Westminster Abbey
Changing of the Guard at Buckingham Palace (if scheduled)

Enjoy a fish and chips dinner

Day 6: London

Visit the Tower of London

Add this in-depth excursion

| | |
| --- | --- |
| | Windsor Castle |

Sometimes you just need 13 acres of castles, towers and gardens to really unwind—or at least you do if you're a member of the royal family. Wander onto this tremendous retreat favored by the Royal Family for the afternoon, and explore what is essentially a small town. Behind the walls of its exquisite architecture you'll find treasures that date back to its origins in 1070—from original Da Vinci sketches to the royal remains of monarchs past.

Day 7: London

Enjoy free time in London to attend court hearings

Choose from three optional activities:

Add this in-depth excursion

| | |
| --- | --- |
| | London Parliament visit and lecture |

The vertical architecture of the Palace of Westminster's three towers (including the Elizabeth Tower, or Big Ben) sits starkly on the Thames River affording visitors one of the most breathtaking and iconic views in Europe. Step inside the Palace's halls where you'll discover how the House of Commons and the House of Lords work together during a parliamentary-themed lecture.

Add this in-depth excursion

| | |
| --- | --- |
| | British healthcare Q&A |

During an optional question and answer session with a British nurse, gain insight into Britains unique health system and the people behind it. Draw from your knowledge of the U.S. system as you compare and contrast two decidedly different approaches to healthcare.

Add this in-depth excursion

| | |
| --- | --- |
| | London business visit and lecture |

A world leader in business, financial services and culture, London plays an instrumental role in shaping the global marketplace. On this optional excursion, see behind the curtain with a visit to one of Londons leading companies and a business lecture by a professor from Hult International Business School.

Day 8: Dublin

Take a walking tour of Dublin

Grafton Street
Temple Bar

Enjoy free time in the afternoon

Enjoy a Guinness stew dinner

Day 9: Dublin

Take a guided tour of Dublin:

Phoenix Park
Georgian squares

See the Book of Kells at Trinity College

Visit St. Patrick's Cathedral

Day 10: Depart for home
Round-trip airfare

Your price includes round-trip airfare for your whole group

Accommodations

5 overnight stays in hotels with private bathrooms; 1 night train accomodation

On-tour transportation

Land transportation

Regional-style meals

Light breakfast daily; 2 local dinners or 3 with extension

Full-time Tour Director

We have the best Tour Directors in the business; Your group will have a trusted, friendly guide at your side full-time on tour to manage all logistics, offer insight and guidance, and respond to any unexpected challenges

Guided sightseeing

Edinburgh; London; With extension: Dublin

Entrances

Tower of London; Edinburgh Castle; With extension: Book of Kells at the Trinity College; St. Patrick's Cathedral

Worldwide support, safety and security

We have over 400 schools and offices in more than 50 countries, which means if something happens, we can react quickly and in person; We also include our $15 million liability policy and $1 million consumer protection plan at no additional cost to travelers

Curriculum Integration

We provide support and expertise to help you integrate academic goals into your tour itinerary as needed