Paris, Provence & Barcelona
Enroll now and lock in the price.
Tour Number: 1426483PK
Group Leader's Name: Douglas King
Departure Date: 5/11/2015
Return Dates: 5/22/2015
Departure Gateway: Pittsburgh
12 days
A travel-intensive regional exploration with artistic tones and local flavors
It's two of Europe's most stunning cities separated by one of the most romantic regions.
The size of the Mona Lisa may surprise you, but so too will the Provence region, a source of inspiration for Louvre-dwellers like Cézanne, van Gogh and Picasso. You'll see La Sagrada Familia, Park Güell and the rest with a perspective usually reserved for the most seasoned travelers.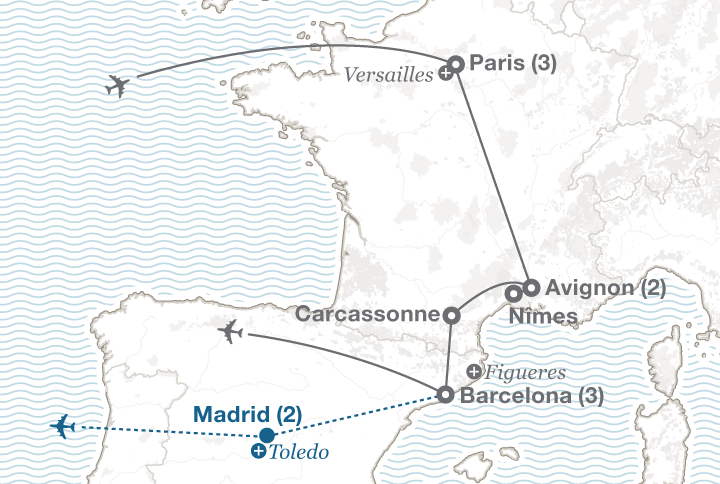 Day 1: Fly overnight to France

Day 2: Paris

Take a walking tour of Paris

Visit Notre Dame Cathedral

Enjoy dinner in the Latin Quarter

Day 3: Paris

Take a guided tour of Paris

Place de la Concorde
Champs-Élysées
Arc de Triomphe
Eiffel Tower
Les Invalides

Day 4: Paris

Add this in-depth excursion

| | |
| --- | --- |
| | Versailles |

Welcome to the world headquarters of decadence—the grand palace of Versailles. The enormous estate was built to keep commoners far from its gilded doors and expansive gardens—but fortunately, you won't have to win Louie or Marie's notoriously fickle favor to get in. After spending the day in a maze of manicured shrubbery and the staggering Hall of Mirrors, continue the theme of indulgence by treating yourself at a local patisserie nearby.

Day 5: Avignon

Travel by TGV train to Avignon

Visit the Palais des Papes

Day 6: Nimes

Take an excursion to Nimes

Visit the Nîmes Ampitheater

Day 7: Carcassonne + Barcelona

Take a tour of Carcassonne

Day 8: Barcelona

Take a guided tour of Barcelona

La Sagrada Familia
Montjuïc Hill
Barrio Gótico
Barcelona Cathedral

Add this in-depth excursion

| | |
| --- | --- |
| | Barcelona Flamenco Evening |

Feel the pulse of Spain when you attend an unforgettable flamenco performance! Born of Indian, Moorish, Arabian and gypsy influences, flamenco dance is a passionate display of dramatic poses and colorful costumes, accompanied by song and guitar. Marvel at the intricate rhythms created by a dancer's steps, castanets and clapping. A beverage is included during the 2-hour performance.

Day 9: Barcelona

Enjoy free time in Barcelona

Add this in-depth excursion

| | |
| --- | --- |
| | Dalí Museum in Figueres |

Join a half-day excursion to Figueres, a Catalan city on the exquisite Costa Brava and birthplace of renowned Spanish artist Salvador Dalí. You will visit Teatre-Museu Gala Salvador Dalí, a one-of-a-kind theater museum designed by and dedicated to the surrealist world of Dalí. It contains the broadest range of Dali's works and offers a unique opportunity to step into the world of the artist.

Day 10: Madrid

Travel by AVE train to Madrid

Take a walking tour of Madrid

Day 11: Madrid

Take a guided tour of Madrid

Plaza Mayor
Puerta del Sol

Add this in-depth excursion

| | |
| --- | --- |
| | Toledo |

This guided half-day optional excursion takes you to the Toledo, the "city of the three cultures." Explore its diverse artistic and cultural legacy on a panoramic drive around the city, stopping at the iconic cathedral and the famed Church of Santo Tomé. Note: Comfortable walking shoes are recommended.

Day 12: Depart for home
Day 1: Fly overnight to France

Day 2: Paris

Take a walking tour of Paris

Visit Notre Dame Cathedral

Enjoy dinner in the Latin Quarter

Day 3: Paris

Take a guided tour of Paris

Place de la Concorde
Champs-Élysées
Arc de Triomphe
Eiffel Tower
Les Invalides

Day 4: Paris

Add this in-depth excursion

| | |
| --- | --- |
| | Versailles |

Welcome to the world headquarters of decadence—the grand palace of Versailles. The enormous estate was built to keep commoners far from its gilded doors and expansive gardens—but fortunately, you won't have to win Louie or Marie's notoriously fickle favor to get in. After spending the day in a maze of manicured shrubbery and the staggering Hall of Mirrors, continue the theme of indulgence by treating yourself at a local patisserie nearby.

Day 5: Avignon

Travel by TGV train to Avignon

Visit the Palais des Papes

Day 6: Nimes

Take an excursion to Nimes

Visit the Nîmes Ampitheater

Day 7: Carcassonne + Barcelona

Take a tour of Carcassonne

Day 8: Barcelona

Take a guided tour of Barcelona

La Sagrada Familia
Montjuïc Hill
Barrio Gótico
Barcelona Cathedral

Add this in-depth excursion

| | |
| --- | --- |
| | Barcelona Flamenco Evening |

Feel the pulse of Spain when you attend an unforgettable flamenco performance! Born of Indian, Moorish, Arabian and gypsy influences, flamenco dance is a passionate display of dramatic poses and colorful costumes, accompanied by song and guitar. Marvel at the intricate rhythms created by a dancer's steps, castanets and clapping. A beverage is included during the 2-hour performance.

Day 9: Barcelona

Enjoy free time in Barcelona

Add this in-depth excursion

| | |
| --- | --- |
| | Dalí Museum in Figueres |

Join a half-day excursion to Figueres, a Catalan city on the exquisite Costa Brava and birthplace of renowned Spanish artist Salvador Dalí. You will visit Teatre-Museu Gala Salvador Dalí, a one-of-a-kind theater museum designed by and dedicated to the surrealist world of Dalí. It contains the broadest range of Dali's works and offers a unique opportunity to step into the world of the artist.

Day 10: Madrid

Travel by AVE train to Madrid

Take a walking tour of Madrid

Day 11: Madrid

Take a guided tour of Madrid

Plaza Mayor
Puerta del Sol

Add this in-depth excursion

| | |
| --- | --- |
| | Toledo |

This guided half-day optional excursion takes you to the Toledo, the "city of the three cultures." Explore its diverse artistic and cultural legacy on a panoramic drive around the city, stopping at the iconic cathedral and the famed Church of Santo Tomé. Note: Comfortable walking shoes are recommended.

Day 12: Depart for home
Round-trip airfare

Your price includes round-trip airfare for your whole group

Accommodations

8 overnight stays in hotels with private bathrooms (10 with extension)

On-tour transportation

Land transportation

Regional-style meals

Light breakfast daily; 3 local dinners or 4 with extension

Full-time Tour Director

We have the best Tour Directors in the business; Your group will have a trusted, friendly guide at your side full-time on tour to manage all logistics, offer insight and guidance, and respond to any unexpected challenges

Guided sightseeing

Paris; Avignon; Carcassonne; Barcelona; Mercat de la Boqueria; With extension: Madrid

Entrances

Notre Dame; Louvre; Papal Palace; Amphitheater in Nîmes; Pont du Gard; Park Güell; With extension: Prado; Palacio Real

Worldwide support, safety and security

We have over 400 schools and offices in more than 50 countries, which means if something happens, we can react quickly and in person; We also include our $15 million liability policy and $1 million consumer protection plan at no additional cost to travelers

Curriculum Integration

We provide support and expertise to help you integrate academic goals into your tour itinerary as needed